New Year in November: Family & Community Goals
Posted by Jennifer Lush on Thursday, November 17, 2022 at 6:00 AM
By Jennifer Lush / November 17, 2022
Comment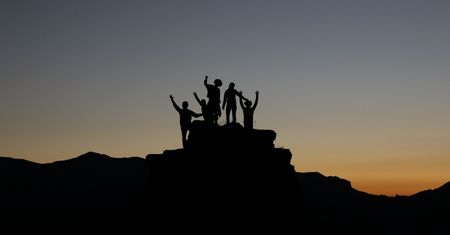 This last week of our November goal setting is about the goals we want to have with and for our families and community. I will be very vague here because each household has their own beliefs, goals, and standards they want to keep. I do, however, want to produce a spark to get your thinking about how to be kind, giving and generous with your time, family, and community as well.
Helping & Giving Goals - Before you talk to your family about how they can give and help in their community or in the family, make some personal goals of your own you would like to achieve in the New Year. Think about how you may want to increase your charitable giving, or if you are going to start volunteering somewhere. If you are motivated and have goals yourself, it's easier to help your family to get some goals in this area as well. Model what kind of behavior you want your family to have, and you will have better results convincing someone else to follow you. Maybe plan in the beginning of the year to find who you want to help or give to and start right away and then let your family know ahead of time how you want them to help out sometime during the year at the same place, or that by summer for them to have some goals on how they would like to help when school is out, etc. If you have never done anything like this before, you don't have to jump into all sorts of things. You may find there are particular things you or your family is better suited to do and will want to concentrate on that down the road. But start talking about things NOW. Get yourself and your household in the mind set of giving and caring for the next year.
Family Time Goals - Another big goal is to plan more family time goals. Maybe you have a lot of family time, but it's not really doing anything but watching TV or going to church together. Talk to your family/household about how they would like to spend time together next year. Kids especially sometimes feel that what they want doesn't really matter and they are dragged on vacations that they didn't plan or ask for and when they are a certain age, they may want more choices for their spare time as well. You may be surprised what you all come up with to do together. I think as adults we fear getting our kids' input because we think they will choose lofty things (like going to Disney all summer) and not understand the family budget, but a lot of times they just want some undivided time with their families. A family movie night that doesn't get cancelled all the time, one on one time with a parent once a month, going trail hiking or to the park more than once in a blue moon may all be more important than you may know. The way to find out what is important, of course, is to ask.
Relationship Goals - This may be mentioned last, but its importance is certainly much higher than that. We only have so much time with the people we care about on this earth, and we should take inventory each year on how we can improve on our relationships with those people. If you have a partner in your life, make it a priority in the next year to communicate better, make more time for each other and do what you can work on yourself to help you be a better partner. With your kids or other family members and friends, find ways to deepen your connections or reconnect with those you don't see that often. Also, make goals to do your part to repair those relationships that aren't quite what they used to be. This can be difficult, and it can make you vulnerable to being hurt depending on the issues in a damaged relationship, but, if you make a goal to do your part--and keep that goal--no matter what the outcome is, you will know you did your part to try and you can rest on that. The relationships that are good, that you are working on too, will give you the emotional charge you need to help the hurt you may encounter trying to repair a bruised or broken relationship.
Setting goals can be difficult no matter what those goals are for. The earlier you try, the more time you give yourself to succeed on your goals. Sometimes our goals don't turn out like we wanted them to, but that doesn't mean that they weren't supposed to go a different way. As humans, we sometimes focus on things that aren't necessarily the best for us or those that we love, and life sometimes helps us learn that in a hard way. Don't get discouraged if that is the case. There is fulfillment in knowing you are trying to be the best you can be and that you are willing to try new ways to help your family, friends, and community will be very rewarding. It will not only make you a better human but will be a great example to others and push them to be better too.
Until Next Time!
Jen Lush - Human Being
Photo Credit: Natalie Pedigo