In Remembrance - 2019
Posted by Aaron Luttrull on Monday, May 27, 2019 at 6:00 AM
By Aaron Luttrull / May 27, 2019
Comment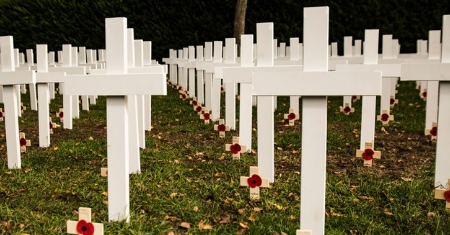 Today is Memorial Day. It's the day our nation honors those who have fought for our freedom and lost their lives because of it. We also have expanded the day to include remembering those who may not have fought for our freedom in the Armed Forces, but, those we have lost and want to take some extra time to remember them as well.

When you have lost someone that is close to you, you usually don't need to be reminded to remember them, because it leaves a permanent "scar" in your life that most of us think of every day. But, if you haven't lost someone close to you, yet, (for the time will come) it's still important to take a moment to think about all those who have made life changing sacrifices for you to live the life you have today.
There have been strangers to you, in the past, that have lost their lives defending, standing up for and speaking out for the freedoms you have today. Those who have fought wars in our country and abroad, those who sacrificed their lives to live their truth so that you could live yours too. There have been others that were hated, beaten and tortured just for being who they were, that because someone cared about their plight, you no longer have to live in fear.
There have been past members of your family that have sacrificed to come to this country from another, just to give their family and future generations of their family a better life and that has trickled down to you today. And still other, closer, family members that worked hard so that you could eat, sleep and live safely.
Still there are some of you who may read this that have never felt safe, loved or taken care of, and you may feel hard pressed to find any redeeming quality in anyone because of the struggles you have faced, however, your life will touch someone else at some point and that will cause them to make a difference so that others don't live their lives the way you have.
In the end, we all leave our mark on this earth. Whether we are "good" people or not, our lives leave something behind for others to build on or change. Something for someone to fight for--or against--for the betterment of the next generation. I truly believe that good can and does come from anything and everything whether we can see it or not. Someone will come along and make that difference that needs to be made.
So let's take this time to remember and be thankful for those who have gone before us...making a path in the wilderness ahead of them, so that we could walk the way we have been able to walk and let's continue to keep the path clear for those coming after us, so they can remember us and the sacrifices we make for future generations.
I remember...
Jen Lush, Associate Broker and Mother of Managing Broker
Photo Credit: Diana Parkhouse