Garage Sales, Flea Markets and Second Hand Treasures
Posted by Aaron Luttrull on Friday, May 10, 2019 at 7:00 AM
By Aaron Luttrull / May 10, 2019
Comment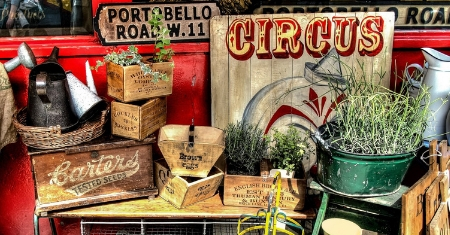 It is that time of year again! The time when there are neighborhood garage and yard sales, flea markets out in the open air and lots of things being left by curbs to take for "FREE". If you are new to this, here are a few tips and tricks for you to follow as you go out hunting for your "new" treasures.
Research - Before you head out on an all day neighborhood excursion or even decide to tackle just one large flea market, you need to do your research. If you are looking for a specific item, see what the "market value" is for that item to know if you are truly getting a deal. If it is a larger item you are looking for, take measurements of the spot you will be putting it as well as your trunk just so you will know if it will fit or not! Also, it's a good idea to get some research on the place (or places) will be going. Check around to see if you can find out what type of flea market it is (mostly antiques? yard sale type items?) and plan accordingly. Some may not be what you expect, so have a plan "B" if when you get there it's not your type of sale.
Take it With You - Cash is king but credit isn't irrelevant. So take both, however, cash may get you a better deal. Take a small cart, totes and plastic shopping bags to bring home your treasures in. If something is dirty, you may need an old towel or two in the trunk as well. Don't forget about your needs too. Taking water and a snack will help keep up your energy while you shop.
Be Ready Early - These types of sales usually start very early in the morning and the earlier you can get out to shop, the better deals you may see. If you are at a flea market and intend to stay all day, sometimes if they still have an item at the end of the day, they may reduce their price (same with a garage or yard sale)--depending. So, if you are "on the fence" about an item, wait until later and see if you can get it for less or find it in another booth for a better deal. If it's gone, it wasn't meant to be anyway!
Check it Out - When you are looking at a specific item, check for it's authenticity by checking the bottom and the inside of the item. Look for damaged spots, stains or cracks. This can affect the value of an item as well.
To Haggle or Not to Haggle - Whether you haggle or not, depends on where you are. Vendors know an items worth. If you have done your research, you will too. They are there to make money, so usually they have priced the item accordingly. Other sales, you may be able to ask if they will take less, but don't overdo it. If it's still not the price you want to pay, move on. Chances are it will still be there later if it is overpriced, you may find it elsewhere for the price you want or maybe your expectations are off. Either way, it's good to be fair with those you are doing business with.
So have fun out in the sun shopping this year! I hope you not only enjoy the hunt for your treasures, but also that your vehicle will hold all your great finds!--Jen Lush
This blog was inspired by an article in the June 2018 issue of Romantic Homes Magazine.