English Design Elements
Posted by Aaron Luttrull on Monday, September 19, 2022 at 6:00 AM
By Aaron Luttrull / September 19, 2022
Comment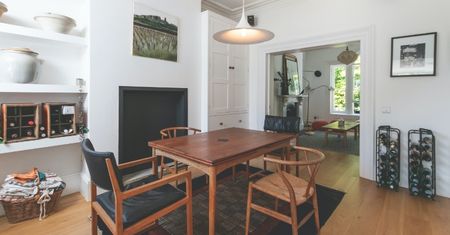 English interior design has softer, diffused lighting, can be rustic in nature but also have a modern touch. If want to have that quiet style in your home, here are a few things to keep in mind.
Gallery Wall - Consider a gallery wall with pictures of all shapes and sizes, possibly along a stairway, a hallway or on an office wall. Vintage frames are a great way to get that Old English feel. In a kitchen a gallery wall can be a wall that has different plates hung or even pots and pans along a wall which can also be very functional.
Modern & Rustic - English design has a way of mixing old charm with simple modern function. Re-cover an old Victorian type of chair with a crazy modern pattern in the upholstery. Add rustic wood shelves to your space but put modern shaped pottery on it to bring in the modern touch. Keep most of your decor appropriate to the age of your house. If you have a new house you would like to give more character to in an English way, add accent pieces that look like they have history to them, but still serve a very modern function such as an old sideboard in a dining room or a curio cabinet as a pantry in your kitchen.
Florals - Adding florals in your fabrics, in your accents and just fresh flowers in general give an English feeling to a home. Think of the colors you may see in an English garden and use those as accent colors on walls, furniture or in a rug.
Patterns - If florals aren't your thing, plaids, stripes, and checks have a place in English design as well. Add some stripes to a wall or use a check or plaid pattern in your sofa. Accent wallpaper is in right now, so you can even add a wallpaper with different bird patterns or Vintage style patterns on a small area to be sure not to overload a space.
Clean Color and Simplicity - There are a couple of things that really seem to stand out in English design. On the more Vintage side, there are deep jewel tones and large areas of color and on the modern side, there are more muted tones of color. Overall, English design is simple, understated--even when you use a dramatic color, and very functional. A lot of excess isn't needed.
A home that functions well for you and your household is the most important thing--no matter what country inspires your design!--Jen Lush
Photo Credit: James McCreddie